EACH OMONILE LAWYER VERIFICATION CHECKS FOR:
Valid Documents
True Ownership
Survey Coordinates Confirmation
Red Flags and Encumberances
Forged Documents
Trespass
Stolen Land
Possible Litigation
Government Barred Lands
Incomplete Titles
Incomplete Transaction
Omonile Fees paid/ Owed
History of Previous Owner(s)
Land Taxes Owed
Hidden Buyers Fees
All types of Current Land Scams
We can spot a fake or an original land document at first sighting.
We guarantee 100% fraud free land transactions.
What we do
Our services span the entire range of real estate legal practice, reflecting not only our expertise as solicitors but also the depth of our experience in facilitating fraud free property transactions.
Our services include:
Title investigation
Document verification
Background checks
Legal advisory
Land purchase management
After sales support
Title Investigation
We will investigate all properties that you are interested in and only endorse those that closely match your requirements and are free from ownership problems. The moment we discover that there is an exception in the property being considered for acquisition – we immediately stop the transaction to protect our client's interests.
"Omonile Lawyer goes very deep to verify the genuineness of presented title documents and expose fraudulent land vendors and agents"
 LAND FACTS IN NIGERIA
"1 in 3 lands checked is stolen land and 2 in 3 lands verified have a defective title"
We do verification checks for:
Valid documents
True ownership
Survey coordinates
Red flags and encumbrances
Forged documents
Land taxes owed
Trespass
Stolen land
Incomplete transaction
Omo-onile fees paid/owed
Hidden buyer fees
All types of land scams
Document verification
"We can spot a fake or an original land document at first sighting"
Legal Advisory
Omonile Lawyer conducts background checks on the history/nature of the land, and also the history of previous owner(s) to find out hidden details of the property.
Background checks help us to know the lands to be avoided for different reasons including theft, ongoing litigation, ownership conflicts, encroached areas, topographic issues (e.g. swampy lands, areas that experience seasonal floods, places with bad ground water, erosion prone areas), Government designated special purpose areas (e.g. agricultural scheme, industrial scheme, proposed bridge, flyover and rail passages) etc.
We maintain and periodically update a directory of fraudulent property sellers and agents. Using our extensive knowledge of current land scams and criminal schemes to protect our clients' interests. We practice due diligence in land documentation requirements to assess genuine certificate of occupancy, deeds of assignment, gazettes, governor's consent, ratification, survey plans, developer documents, receipts and other state property documents. In the unlikelihood of a problem arising from a land purchase transaction, we know all the remedies and solutions to get your land or money back.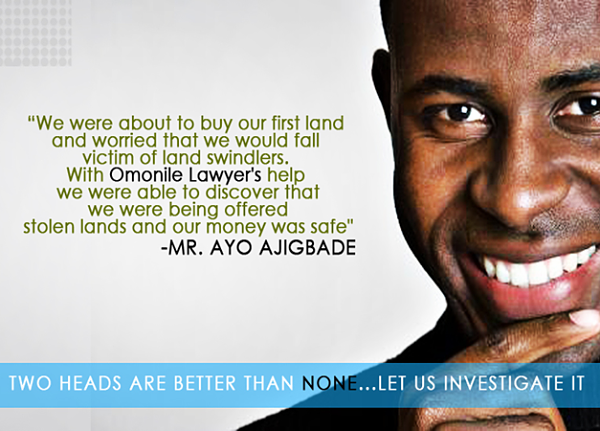 Engage us as your solicitors when you settle on your ideal property and we will be your sole point of contact after an offer has been made. We will liaise with all parties, including estate agents, surveyors and the sellers' solicitors to ensure the conveyancing process runs smoothly and leads to completion within a short time
Land Purchase Agreement Management
Omonile Lawyer keeps in touch with clients after the conveyance , helping them with town planning issues, building plan approvals, We also help to perfect land documents and connect clients with reliable surveyors, trustworthy land officials , building and local material suppliers.