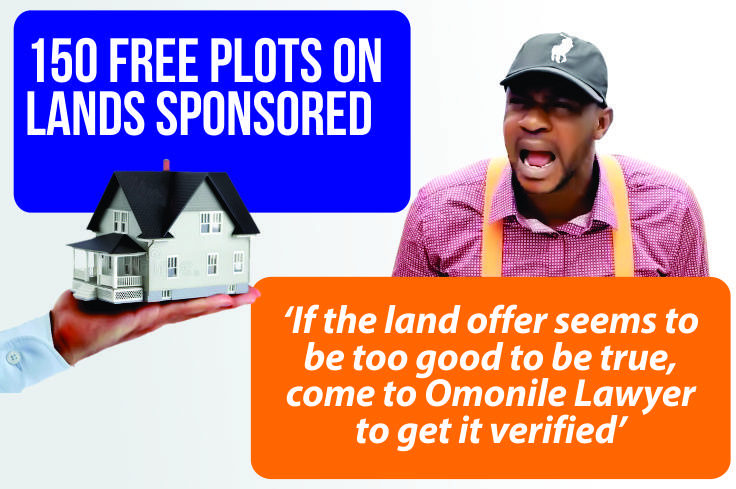 The real estate industry is a sector that is extremely profitable if it is done right. A house is the most expensive item that a person buys over in his lifetime which is also a very productive investment with 1000% returns on interest. However, some persons have made it their career in life to scam victims of property investments whether buyers, sellers or realtors devising new and creative methods of emptying the pockets of their prey with fraudulent practices.
Property investment scam is not just a peculiar problem in Nigeria but a global issue. The real concern is how do you identify such scams and masterminds of such scam when you come across them? What do you do in that circumstance? Believe me when I tell you that it is not everybody person who has a convincing title and a sweet mouth that is honest and responsible. Even if you are convinced with their honesty, how can you protect yourself against any unforeseen scam during transaction?
The safe approaches you can take as a step to securing your money and peace of mind are as follows:
Do not rush to buy properties on sale
It is almost certain that you will come across cheap deals for sale of properties which will catch your attention and your money decides it wants to go on vacation into another person's bank account. I just want to re-echo four words "DO NOT RUSH TO BUY"!  Take time to analyze the market, investigate the seller and verify the genuineness of his title documents.
If the Seller or their agents are impatient with your investigation and decide to put pressure on you to make payment quickly before someone else grabs it, please let other people buy it because you are interested in protecting yourself first. Like we stated earlier in our article on fake documents, "if anything is too good to be true, then it is not true".
Verify the person you are working with in the property transaction
Your agent and your lawyers are not spared in this area. We are in the digital age where anything can be verified with just a click of your online gadgets. Ask for referrals, review their past works and let their track records reveal some level of professionalism to you. Do not just accept them at face value because you are parting with a lot of money to become an investor in the real estate business therefore, everyone is a suspect until proven otherwise. Do not work with any person whom you have no confidence in.
Ask Questions
Red flags can be raised at any time during and even after a property transaction so it's best to eliminate them at the earliest opportunity. Scrutinize all the documents relied on as title to sell the property and if there are any inconsistencies with the stories they sold to you and the contents of their documents, RUN! If the property they advertised to you on paper does not fit the description you meet on ground, RUN! Please put sentiments and emotions aside, avoid disclosing too many information to your agent, the vendor and its agent otherwise your sincerity might be your downfall and push you to become another victim of scam.
Avoid paying for estate transaction in cash
Tread carefully on this part especially when you send your money on an errand and you expect a feedback. If the vendor or his agent tries to persuade you to pay for the property in cash, please ignore them. It is very advantageous to write cheques, issue bank drafts or make money deposits at the bank when engaged in land transactions so that if it goes wrong, you can easily trace the account holder who received your money and hold him liable. It is very disadvantageous to pay in cash because you will be left hanging dry when the transaction goes south. The only way out is if you have pictorial evidence at the time the money and was paid and you can trace his identity.
Do not skip physical inspection of the property
Always insist on physical inspection of the property they want to sell to you. Don't allow them to discourage you from visiting the property of your delight because pictures lie and their intent may be to deceive you into making payments and when you are done with all the formalities of negotiations and payment of the property, you will realize that the property they showed you in pictures is actually Lagos lagoon. Once they begin to show discomfort or negative body language upon request to sight the property physically, please take your money and run fast because that's an indication of scam!
Ascertain your title documents in the event of purchase
Always remember that the end goal of a title document is to register and perfect your title over that land as the owner with the Lands Registry, Alausa, Ikeja. We have earlier discussed the types of documents which should be given to any purchaser from the different types of vendors in our article on incomplete documents. Any extra document in addition to the title documents enumerated in that article is welcome. If any of the enumerated documents are not given to you, there's a iota of suspicion of scam lurking around.
Most real estate companies will give you all the outlined documents but you will meet a brick wall when trying to register your title. This is because they do not have original titles and so, they rely on contract of agreement, memorandum of understanding and other funny looking agreements because they are either yet to fulfill the terms and conditions contained in these agreements before proprietary interests can be transferred to them or they are simply indirect marketers of the real owners of such land or property and do not possess neither possessory nor proprietary interests on the property.
Don't be a victim of either an Omonile Land scams or fraudulent real estate developer. Get in touch with Omonile Lawyer and we promise to help prevent you from losing your hard earned millions to crooks.