In the last 4 years, I have seen so many property buyers suffer the pains of being scammed by Land fraudsters. These land fraudsters have so many tricks up their sleeve to dupe innocent land purchasers ranging from showing the buyer other people's lands that do not belong to them or presenting forged or fake title documents to deceive and coerce them into buying problematic lands.
With this in mind, Omonile Lawyer presents to you our Top 10 Unsafe Lands to buy. These lands have been carefully selected after a series of pain-staking background checks carried out by the Omonile Lawyer Team.
These lands  represent some of the most awful locations, lands and deceitful residential estates offered for sale in Lagos State today that will surely guarantee you to lose your money and incur the wrath of the Lagos State Government for buying a Land that is not supposed to be sold to the public. They include the following:
1. IGBEKODO VILLAGE IBEJU LEKKI
Igbekodo is a very lovely place in Ibeju Lekki close to Siriwon village. Its opposite the golf course. The land is very dry and not too far from the beach. Did I also mention it also has an approved excision?
There are so many people who have bought land there as investors hoping to resell in future but it has come at a heavy price. Igbekodo is one of the most notorious places where you would find land fraudsters reselling people's lands with impunity.
Once you buy a land there and you don't fence it immediately, be rest assured within a month your land would be sold to another unsuspecting person. They have no remorse and would brutally deal with you once they smell you are weak or a novice when it comes to land transactions.
The major culprit is a fraudster called Baba Dodo. He is the worst scammer I have seen in my life. He is almost 75 years but he scams people for a living. He once sold his late wife's graveyard 3 months after she was buried for N40Million without his children knowing. He also has a team of fraudsters moving from village to village to resell people's lands.
He has been arrested so many times but prison never seems to deter him. Once you buy a land that is in dispute from them, you automatically join the wahala on the ground. They are specialists in knocking people's heads together to fight for a land sold to 3 people or more.
Please be smart before you purchase a land there. Do your due diligence to avoid losing your money.
2. KAIYETORO VILLAGE IBEJU LEKKI
Kaiyetoro village is another lovely place in Ibeju Lekki with its own Excision that has attracted a lot of investors but the sellers of land there, specialize in selling people bad lands that are committed especially lands the government has set aside to build housing schemes.
During one of our searches for a client, we found out that most of these lands marketed by the sellers fall within the proposed IBEREKODO GOVERNMENT SCHEME. Its like buying a land that the government intends to construct the next Gowon or Jakande Estate on. It simply means the property would be demolished by the government and the land seized with no compensation.
Buying a committed government land is very dangerous. Please exercise due diligence and care before you commit your money to buy any land so you won't lose your money to the government.
3. OLOKONLA VILLAGE ETI-OSA
Olokonla is a very popular place within the Ajah Environs and Ibeju Lekki. A lot of middle class Nigerians are located there that have constructed high brow properties. Because of this,its not out of place to see Olokonla properties everywhere for sale but unknown to so many,  the proposed 4th Mainland bridge goes through many of those lands there.
So many unsuspecting owners of land and property in Olokonla are totally unaware that their land/property sits under the proposed 4th mainland bridge. The search we did for a client who wanted to buy a land there confirmed our suspicion and we advised the client to look else where. Be careful when you intend to buy a land at Olokonla. Its a beautiful place filled with a lot of bobby traps.
4. ORIYANRIYAN VILLAGE IBEJU LEKKI
Some Nigerians are just born wicked. The greed in them to lead so many people astray just because of the small change that would line their pockets makes them dangerous. Oriyanriyan Village is a place in Ibeju Lekki that is up and coming. Loads of investors are rapidly purchasing land there for future business which is normal but why would someone introduce and sell a land that the Government has acquired to build an INDUSTRIAL STEEL PLANT  ?
What kind of mad person would knowingly market a land that the government has earmarked to erect a structure that can help develop Nigeria? The worst part is that so many people ignorantly have bought lands inside the proposed Industrial Steel plant Area and have started constructing luxury properties.
When the Lagos state government pounces on them, the sellers of these bad lands would take off with no refund of money. Please once again be wise when buying a land in Lagos.
Check, Double check and triple check these lands with an expert so you wont join the other victims that have been fooled by these con artists.
5. ODE OMI VILLAGE IBEJU LEKKI
Ode-Omi just like Oriyanriyan is another village in Ibeju Lekki that is attracting a high number of investors but land fraudsters have pounced on those lands and deceived a lot of people to buy these lands. Unfortunately for them, most of the lands there has being designated as THE FUTURE SMART CITY in Ibeju Lekki.
The smart city is a supposed to be like a small version of the Silicon Valley in Los Angeles with a lot of innovation to boost Lagos state. While the Lagos state Government is working hard to provide these services no matter how small, some fraudsters are contented with selling off all those lands for money to marry new wives and pop champagne in clubs. God help us all. Once again i cannot stop begging you to be careful.
Investigate these lands thoroughly with an expert. Nobody would sympathize with you when you tell them how Land scammers duped you to buy a land that belongs to the government. Be wise!
6. SANGOTEDO VILLAGE ETI-OSA

Sangotedo is a very popular place in the Ajah-Ibeju Lekki Axis and its almost regarded as a premium area for middle class folks. Most of the lands there are generally good lands. It has it own Excision and most of the lands there are dry lands but there are some areas that have being zoned for a Government scheme.
Most people are not aware that a Government scheme is supposed to be located there and in a haste to become a land owner in Sangotedo, they have unwittingly purchased committed lands. Its advisable to triple check if you are buying a property in Sangotedo to make sure it is free from government acquisition and land disputes.
7. OKEGELU VILLAGE IBEJU LEKKI
The above search report is very explanatory. If you intend to purchase land from Lekki Golden city and its immediate environs in Okegelu city Ibeju Lekki, please conduct a thorough search to know if you are buying into the part that has an excision unless you would be looking for Lagos state's trouble and i wont be held responsible for what is to come.
8. OGOMBO VILLAGE ETI-OSA
Some group of friends without conducting a proper due diligence on a land in Ogombo bought over 2 acres of land within the Ogombo village axis. Ogombo is the home to so many super homes and estates in the Ajah/ Ibeju Lekki Axis. Unknown to these people, they bought in the worst part of Ogombo. The sellers are the most dubious people i have ever met.
They knew the land falls under the proposed MOREMI GOVERNMENT SCHEME  but they still went ahead to sell it to these people for almost N32 million. After the friends knew the land was a committed land for the proposed Moremi Government scheme, they confronted the sellers but they feigned ignorance and pulled out the old trick of "CAVEAT EMPTOR-BUYERS BEWARE".
These unscrupulous Sellers are even threatening them to fence the place unless they would re-sell it to prospective buyers. Please be very smart and sensible when buying a land in Sangotedo. There are so many places that has issues for a buyer to be aware of. Don't be another victim of these dubious sellers.
9. OKUN FOLU VILLAGE IBEJU LEKKI
Okun Folu village is close to the famous LACAMPAIGNE TROPICANA resort in Ibeju Lekki. It has an excision and the land is very dry but it also has a large number of fraudsters selling land to ignorant people. Many parts of Okun Folu land has been acquired by Government but these fraudsters are always lurking around to resell lands inside the government allocated lands specifically. They have no remorse, neither do they have the fear of God.
Please if you are buying into Okun Folu village, make sure you do a search properly to uncover the on-going land disputes and the portion of the land that is not inside the government allocation.
10. GBETU VILLAGE IBEJU LEKKI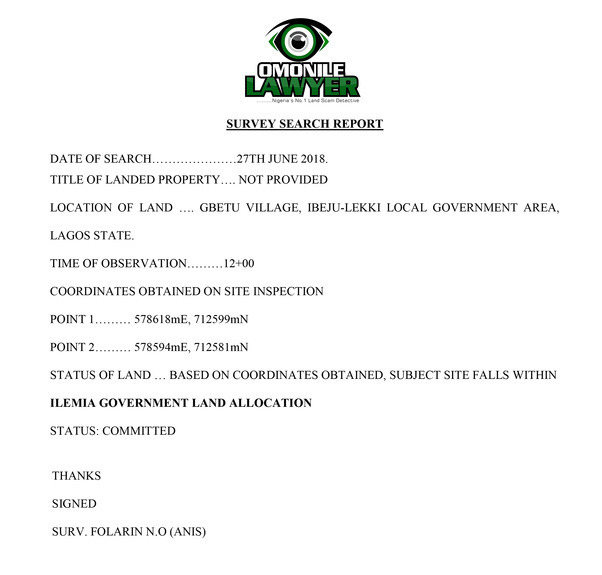 FINAL THOUGHTS
With this in mind, it is pertinent to note that not all these areas listed above have bad lands. The risk now is knowing which one is good or bad. A buyer could be lucky and purchase a part that has no issues and live there for years without any problems while another person could be the one who ends up purchasing the disastrous area with problems and disputes.
It is therefore necessary to conduct a comprehensive search so as to save you Millions of Naira that you could lose to Land Fraudsters Ignorantly. Please kindly share this article with your family, friends, neighbours and colleagues to prevent them from falling Victim to these Land fraudsters selling horrible lands in Ibeju Lekki.
I hope this information is helpful to those who need it. Tell me about your experience purchasing land in Ibeju Lekki.
See you in the comments section!