This article is dedicated to the Millions of Nigerians who have bought lands in Lagos but are still living under the fear and Ignorance of knowing whether the Lands they have bought years back from Omoniles is a valid land that is free from Government Acquisition and Wahala.   All you have to do is follow this 3 easy steps to confirm whether the land is good or bad:
1. Get a copy of Your Survey Plan. If you don't have a Survey Plan, please endeavor to do one now at this stage. A Survey Plan should look like this:
After you have obtained the Survey plan, you should now give it to your Property Lawyer experienced in Land Matters that you trust or a reliable Independent Surveyor different from the Surveyor that did it to lodge a copy of this survey plan in the SURVEYOR GENERAL'S OFFICE so as to obtain a LAND INFORMATION CERTIFICATE.
2. Once the Lawyer  takes it to the Surveyor General's office, he is required to pay the requisite fees to obtain the Land Information Certificate and he must come back with a Lagos or Ogun state Tax Receipt like this below: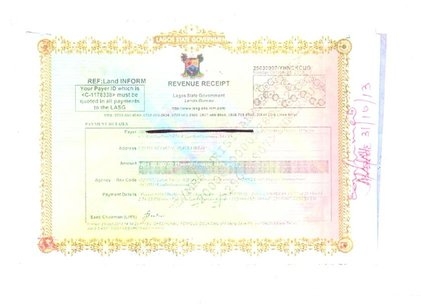 Absence of this Receipt shows that the Land Certificate Obtained for You has been forged and should be discarded. Make sure you tell the Lawyer  doing it for you to Produce the Receipt for you. Its your document and proof of payment of lodgement.
3. After payment has been made, it could take between 3 to 4 weeks for the Land Information Certificate to be processed at the Surveyor General's Office. ( It shouldn't take longer than that. Anything longer than 4 weeks should raise your suspicion hormones) and once it is processed, the Certificate will look like this Below:
If it is a good land, it will be stated that it has been zoned for either Residential or Mixed Development land and that means your safe and you should heave a sign of relief.
But if the Land you bought is a bad land that is Under Government Acquisition that cannot be ratified or a committed land, then is would advise you not to further develop the land because you have just purchased a problem land and there is very little one can do to help you get out of this Quagmire. A sample Land Information Certificate of a Land that is Under Government Acquisition is below: