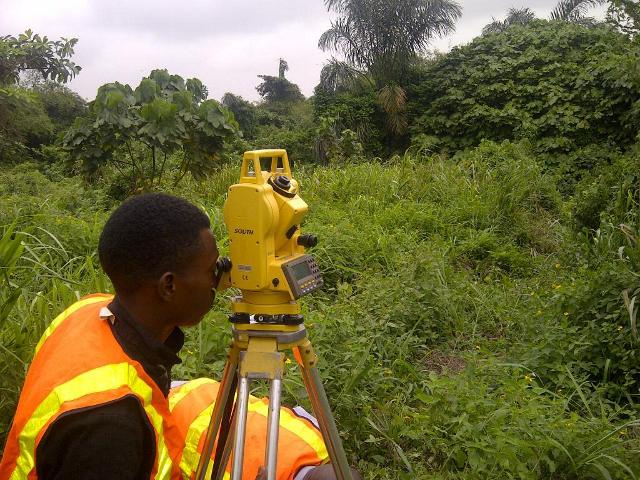 A lot of people have called me over the years to give my opinion on this new trend which is Sponsoring the Survey of Virgin Lands owned by Omoniles and i have reserved my comments so as to study it up close and personal before i deliver my verdict on it and this Finally is my own opinion about it.
WHAT IS A SPONSORED SURVEY IN A VIRGIN OMONILE OWNED LAND?
This is a process whereby Traditional Family owners of Land (Omoniles) who do not have the financial resources to map out their territorial boundaries to carve out their own portion of land given to them by their forefathers or descendants seek out people who have the monetary or financial muscle to assist them in sponsoring the cost of surveying the whole land that the Traditional Families claim to own and in exchange for that Sponsorship, a certain portion of the lands sponsored will be given to that sponsor to do as he or she pleases.
The sponsor plays a big role in promoting the status of community and is very well compensated for all his troubles. It is a very popular way Land buyers own multitude of lands in Lagos and Ogun but it comes with a catch and below are some of  the pros and cons of sponsoring a Survey Plan if you decide to Venture into it in the nearest future.
HOW IT WORKS
A Community member or Agent sources out a venture capitalist or a land Speculator  who is looking for lands to invest in and tells him of a large expanse of untapped land usually hidden somewhere  in the depths of Badagry, Ibeju Lekki, Ikorodu, Mowe etc and convinces him that the Owners of the Land are ready to sell their lands to prospective buyers but they lack the resources to do it.
The Venture Capitalist now becomes very curious and would love to see the lands he is being buttered up to invest in and the Agent or Community member would now give him a tour of a (SMALL PORTION*) of the proposed land to be sponsored to convince him it is real. The Venture capitalist would now demand to see the authority figure in that community to ascertain more facts and he is usually taken to the Head or Baale of the Community who convinces him to come into their community by investing in the sponsorship of the land and reap the rewards in future.
The Venture capitalist now convinced about the financial riches he is about to reap from the sponsorship of that community land now demands for a ball park figure of the total costs of sponsoring the survey and who should be the surveyor that should be hired. In some instances the Community already has its own standby Surveyor who is ready to do it for him at a fixed cost or the Venture Capitalist is entitled to bring his own.
The Surveyor now does a quick estimate of Surveying a particular plot of Land depending on the area the land is located and bills him per plot. So if it costs N100,000 to survey a particular plot and there are supposedly 500 plots in that community, the Venture capitalist is to Pay N100,000 X 500 Plots which is equivalent to N50Million Naira. In some situations the Surveyor tries to discount the cost of estimating it per plot but charges per Acre. (AN ACRE HERE IS 6 PLOTS)*
In return for Sponsoring the Survey of the whole 500 plots*, An agreement will be drawn out between the Community Members and the Sponsor to state that for every 6 plots surveyed via the Sponsors Funds, he would be entitled to one plot of land which could end up being 83 plots of land that would be handed over to the Sponsor for his own personal use to do what he chooses to with it and it is at this Juncture, the Venture capitalist will now look at the funds at his disposal and decide on the number of plots or acres he intends to sponsor so that it matches his pocket and desire.
Examples of the type of people who love to sponsor Virgin lands include Surveyors, Lawyers, Captains of Industries, Civil Servants that are looking for side businesses to invest in and general land speculators ready to buy now to sell later; but this Land Sponsorship has its own peculiar dos and don'ts that a prospective Venture Capitalist should know before they venture into it.
PROS and DO's:
1. You become an instant Millionaire because you would be given a large portion of the lands you helped Survey.
2. If your a Land Speculator who intends to sell the lands in future to make a profit, its a veritable business for you because you have just purchased a land for just under N100,000 for a land that you might sell for N3-5Million in 3 to 5 years time and the more Lands you have, the more your Income grows.
3. You become a pillar in that community and you would be introduced to other benefits that comes with being Known as the Sponsor of their Lands to push them out of obscurity to be amongst the comity of Nations.
CONS and DONT'S:
1. It is a very big Risk to sponsor a Land that you don't know whether the Government will grant it a Gazette or Global C of O in future. The Omoniles are mostly ignorant about the state of their Lands whether it is under Government Acquisition or not and they are only interested in selling the Lands their Descendants bequeathed to them.
2. Most of the Lands Surveyed usually carry the Baggage of encroaching into the Lands of the other Community because they don't know where their lands usually starts or ends legally. In most situation they use a big Bamboo stick to demarcate the portions of the land they believe belongs to the community and nothing more. If and when the Survey Sponsorship is done, the other Community Owners would now rise up to prevent the speculator from taking his own share of the Lands surveyed that he has rightfully obtained and a legal or communal dispute will commence that will force the Sponsor to abandon the lands because he doesn't have the energy to fight for the lands.
3. At times the Sponsored Surveyed Lands might erroneously belong to another set of family members that do not want their lands to be Surveyed or Sold and when these Family members are aware, they would cause the ultimate Mayhem to prevent the Sponsor from taking possession of his land until the Sponsor goes to them to individually negotiate the cost of the Land that the new Family claims to own and he would end up forking out another set of thousands or Millions to appease these Family Members to part with their lands.
4. Also these lands that the Land Speculator intends to Invest in might actually be a Land under Government Acqusition or Committed land and you have just wasted your money and time. Enough said!
5. The surveyor might be Incompetent and Survey Plan might end up as Nonsense whereby you bear the cost of his disaster and decisions and you have to dig deep to pay a new surveyor to rectify the mistakes.
6. The cost of bulk Sponsorship is too much for a person to bear alone and the estimate given at the beginning to woo him is different from the costs encountered when the Surveying Commences properly.
These are some of the Pros and Cons i can think of right now but make sure what ever decision you make in Future with regards to Land Sponsorship, you must INVESTIGATE THE LAND AND FIND OUT THE STATUS OF THE LAND BEFORE YOU COMMIT MONEY TO SPONSOR A VIRGIN LAND.
/p
Examples of the type of people who love to sponsor Virgin lands include Surveyors, Lawyers, Captains of Industries, Civil Servants that are looking for side businesses to invest in and general land speculators ready to buy now to sell later; but this Land Sponsorship has its own peculiar dos and don'ts that a prospective Venture Capitalist should know before they venture into it.
The following two tabs change content below.
Barrister Matthew Ottah helps Nigerians avoid being scammed in real estate deals. He once lost a large sum of money to land fraudsters 'Omoniles' when he was still naive about land matters. Now, he's out on a personal vengeful mission to expose Land scam artists in the Nigerian real estate sector and protect your hard earned money.
Latest posts by Matthew Ottah (see all)