For years I have been warning land buyers how to shine their eyes when buying land from fraudulent Omoniles or Surveyors and why you should do a proper land investigation and use qualified professionals and in return I have been insulted by some people as a resident doom monger trying to make people panic unnecessarily.
Well am pleased to say I have been vindicated. Recently a fellow Omonile Lawyer Reader alerted me to a paid Advert in the Guardian about some plots of land illegally acquired fraudulently under Government acquisition and the survey plans drawn up fraudulently to procure Governors consent for the land.
Those Governor's Consents have been revoked by Governor Fashola himself and the people who bought the lands have lost Millions of  Naira of their money and lands for not doing a proper land investigation and engaging fraudulent surveyors who connive with Omoniles to commit atrocities.
Surveyor Folarin is our guest property blogger today and has being kind enough to write an article about this and it's stated below. Attached here is a copy of the Revocation notice. If una like from today, don't do a proper land verification search before you buy land, we would be reading about your land revocation in the papers and title withdrawal.
All those quacks Agents shouting and advising people that you can buy land under processing or there is nothing wrong buying a land that is under acquisition or Omonile Lawyer is always talking rubbish, over to you, Fashola is ready to answer you now with the only language you understand: Demolition, Cancellation of fraudulent documents and revocation of lands fraudulently acquired.
Also most of you banding about Governors consents, gazettes, deeds of assignment, Survey plans or C/os and posing that you have genuine documents, you better go and reconfirm what your holding as genuine documents at the Land registry before we read your own revocation in City People tomorrow. A word is enough for he wise. God will not let your own be amongst them oooo! Amin          
CAN A SURVEY PLAN MAKE OR MAR YOUR PROPERTY TRANSACTIONS?
Well, the answer to this question is not farfetched..On 11th February, 2013 in Guardian newspapers, the Lagos State Government issued a notice of cancellation of Governor's Consent for two properties located at Eputu village in Ibeju-Lekki Local Government Area.
The cancellation published and signed by Governor Babatunde Fashola was in respect of deed of assignment between Orudu family and Fresh Field Farm Limited as well as between Eletu Family and Fresh Field Farm Limited.
The Governor said he was revoking, withdrawing and cancelling the Governor's consent based on fraud perpetrated on the Survey Plans.Now,the question is who ultimately bears the brunt? The clients, agents, lawyers or the land related professionals?
For the avoidance of doubt, I have pasted below a copy of the rejoinder to a publication by the Governor of Lagos State, His Excellence, Mr Babatunde Raji Fashola, SAN, on withdrawal and cancellation on Consent earlier endorsed on some Deeds of Assignment because of fraud perpetrated on survey plans published by NIS in February 2013.
However, let me state that the case is being investigated and shortly the outcome will be made available. Enough for that. It is time for the entire survey community to wake up and tackle the challenges of various frauds perpetuated on survey plans because of the adverse effects on people and loss of fortunes.
The Nigerian Institution of Surveyors (NIS) should intensify its efforts by creating awareness to project the image of the profession to educate the masses on 'why you need a surveyor before, during and after any land transaction" and "who is a surveyor?"
"Why you need to deal with a registered surveyor and the dangers of patronizing quacks and dishonest surveyors" .And most importantly take appropriate actions against surveyors found guilty of any unethical practice or infamous conduct.
If you have any complaint against any surveyor for poor service or tort or for negligence of duty or for any fraudulent activity. If you have been harmed, physically or economically, by the negligent or purposeful act of a land surveyor in the fulfillment of a business contract and you don't know what to do.
Simply forward your complaints to "The Chairman,SURCON State Ethics Committee , 133 Obafemi Awolowo Road, Alausa,Ikeja", OR to "The Chairman,Nigerian Institution of Surveyors, Lagos State Branch, Block H,Plot B,Ikeja CBD,Alausa,Ikeja,Lagos".
It's good for land surveyors to be sued because it creates valuable lessons for the profession as a whole (although it is not good if you are the individual land surveyor being sued). It's much easier learning hard lessons from the mistakes of others than it is learning them firsthand. Nevertheless, being right doesn't guarantee that you will not be sued.
As with many other specialized professionals, Surveyors can be sued for failing to meet a specified duty and a client has a tendency to sue a Surveyor. Therefore, Surveyors must conduct business and professional practice defensively, as if we will be going to court on every project that will turn out and that every survey plan is litigious because it is a registrable instrument.
If a Surveyor surveys a property for a prospective buyer and by the smallest miscalculation or incorrect measurement defines that property boundaries, misrepresentation, and incomplete title or if a land estimates are found to be inaccurate or unsatisfactorily complete, he can be held liable and may lead to loss of fortune.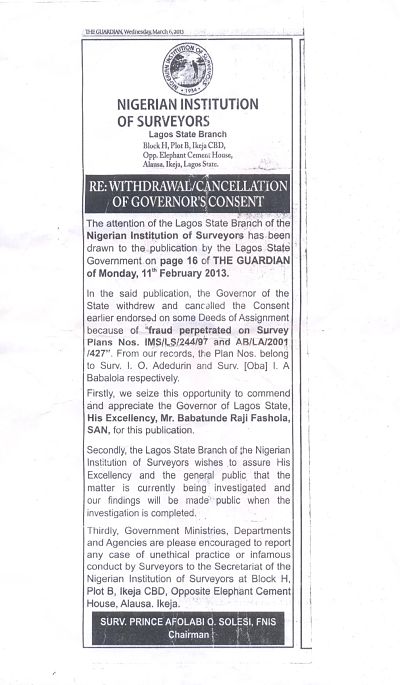 VARIOUS MISTAKES AND SURVEY MALPRACTICES TO AVOID
CONSULT A PRIVATE REGISTERED SURVEYOR FIRST
In your land transaction, the first thing is to do is to consult a surveyor that has no vested interest in the transaction investigate the status of the land and other technical details needed like the area of the land, land information and also engage a lawyer that will take care of the deed of assignment, agreement and property rights etc.
For your own safety, it is not wise to wholly trust the omonile surveyor to be truthful to you. Doing this, your surveyor will do a thorough search on your behalf and chart the status of the land for you. Your surveyor will tell you whether it is under government acquisition or not. If it is under acquisition, is it under regularization or it is a committed land. If it is committed land just simply pick a race.
But most often people call surveyor after they might have concluded transaction with the sellers before engaging a private surveyor, this is not suppose to be the case. Rather always engage a surveyor you can trust before you even vesture into any land matter.
Many lagosians are becoming victims on a daily basis because they are ignorant of the dangers of going into land transactions without consulting a registered surveyor to investigate the status of the land before any transaction.
Last year my friend introduced his friend who had just acquired 3 plots of land in Ajar for millions of naira. He wanted me to do the survey of the land for him. After site inspection and charting, it was discovered that the land he bought is a committed government acquisition: a no-go area.
He said the seller and agents told him that the land is free from government acquisition and he was even shown the gazette published to free that area.
But the truth was that the gazette they showed him didn't cover the area of land they sold to him. He learnt a very bitter lesson but it was just unfortunate.
If he had engaged a private surveyor to investigate the true status of the land for him before committing his millions, he won't have fallen victim.
DISTORTION OF COORDINATES ON SURVEY PLANS.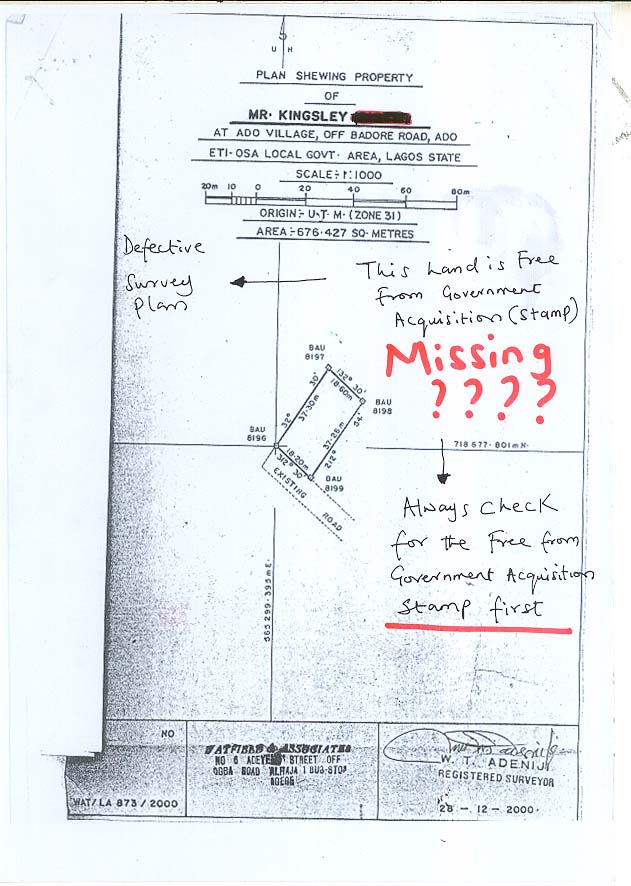 This is where most of the problems lie. A coordinate is simply a set of numbers that defines every point on the earth surface and two different points cannot have the same coordinates. Point A and point B in different positions can never have the same coordinates.
On your survey plans, you will see a set of coordinates number like 536040.337 mE and 732070.285 mN to define one of the corners on your land. This starting coordinate with the bearings and distances are used to chart and plot your land on the base map of Lagos State.
The problem here is that, a lot fraudulent activities are perpetrated using fake coordinate to deceive people. You may wonder how this is trick is done?
For example, let assume we have two expanse of land A and B along the same road in the same area. And say, A is a government land or acquisition and B is free from known government acquisition. In this case, let us use a familiar area like Obafemi Awolowo road in Alausa.
Let us say A, is the Lagos State secretariat which is government land and assume B is Shoprite shopping complex which in this case is assumed to be free from known acquisition. And your land falls into Lagos State Secretariat Perimeter within a government acqucisition.
The Omonile will sometimes connive with the quack or fraudulent surveyor to use a coordinate of the free land for your land such that when it is charted or plotted on the Lagos State base map it falls inside the free zone area (Shoprite Shopping Complex) but on the ground your land is inside government acquisition.
With this fraudulent survey plan you then go ahead to obtain your C of O on the land. When trouble starts, you are certainly going to lose because the C of O was obtained with fraudulent survey plan.
The land owner, seller, agents, surveyor and even the best lawyer won't be able to help you! Then the jury will tell you, sorry the land represented on your survey plan is somewhere else not located where you claim it is on the ground. Why? Wrong and fraudulent coordinates!!!
Let me state that most of these fraudulent activities are done by quacks. Though I find it difficult to believe that a Registered Surveyor can willfully dig his own grave. After perfecting these horrible deeds, they then give the survey plans to Registered Surveyors to append his/her signature.
The Registered Surveyor unknowingly or carelessly appends his/her signature. When the trouble begins the Surveyor will take responsibility and the quack surveyor will disappear.
Let me categorically state that most people parading themselves as surveyors are tracers, messengers, administrative workers that have no idea about the rules, regulations and ethics of the profession and so they are ready to do an undo to make money regardless of who will bear the brunt.
If you are patronizing a quack that has no office, no formal training or education in surveying or certificate, no address, how do you trace and apprehend the person. Even when you arrest the person, the police will certainly release him but the misdeed has been done already.
If it was a Registered Surveyor and he is found guilty of professional misconduct, there are punitive measures to be meted out like fines, suspension from practice or revoking his/her licence or registration after conviction.
I hope to write more about survey scams and malpractices to avoid in subsequent write up. For consultancy contact me via crystalconsults2013@gmail.com or call me Surveyor on 08028541100